I am a very lucky girl who has a very amazing friend. When my friend Charl told me she had a spare ticket to the Warner Brothers Harry Potter Studio Tour and she was inviting me along I could have cried. As a huge Harry Potter fan I've been wanting to go for a really long time, but either couldn't afford it or couldn't find someone to come with me, so when Charl asked me to come along with her, I said yes yes yes! As I live within driving distance of the Studios we decided to stay at mine for the weekend and I'd drive us there.
We took a lot of photos, so much that both our iPhones died at the same time, also as we were taking photos on our phones the quality isn't great, but you can still get a sense of how amazing it was. This is going to be a very picture heavy post, and if you haven't been to the Studios and want it to be a surprise when you do go, look away now, I won't mind I promise!


The Great Hall was really amazing, as it was the exact set used in the films it was so amazing to see it in real life, the floor was even made of stone! In the hall they had the tables set up and at the end they had mannequins of the teachers dressed in outfits the actors had worn. We obviously had to get a selfie with Dumbledore!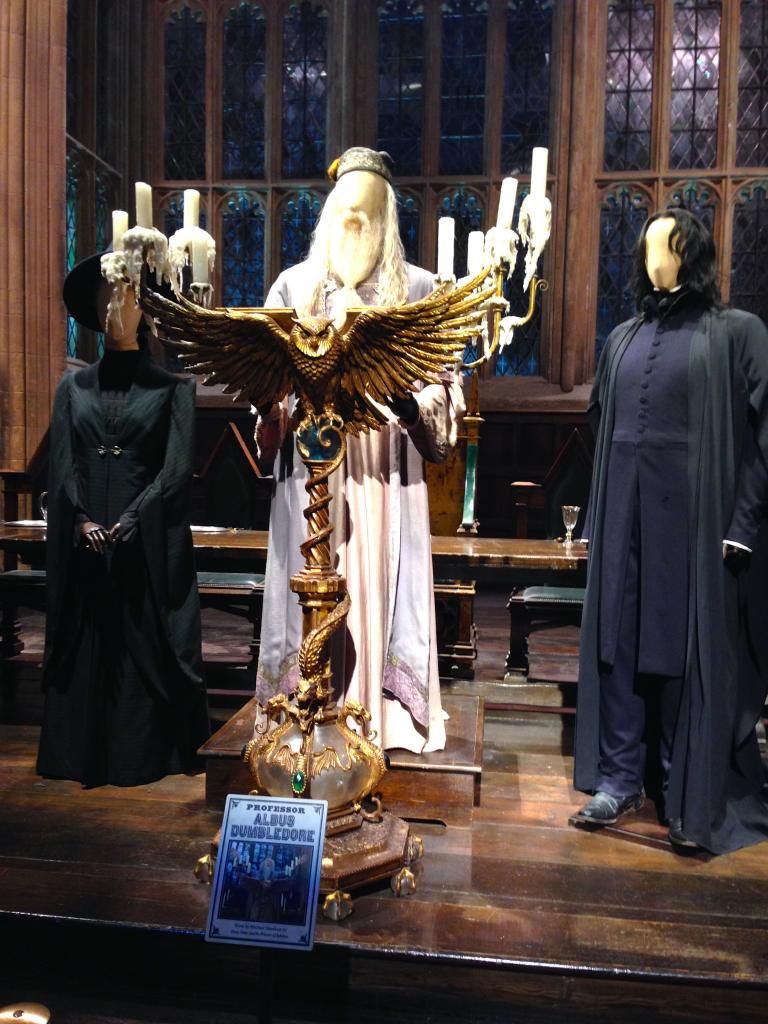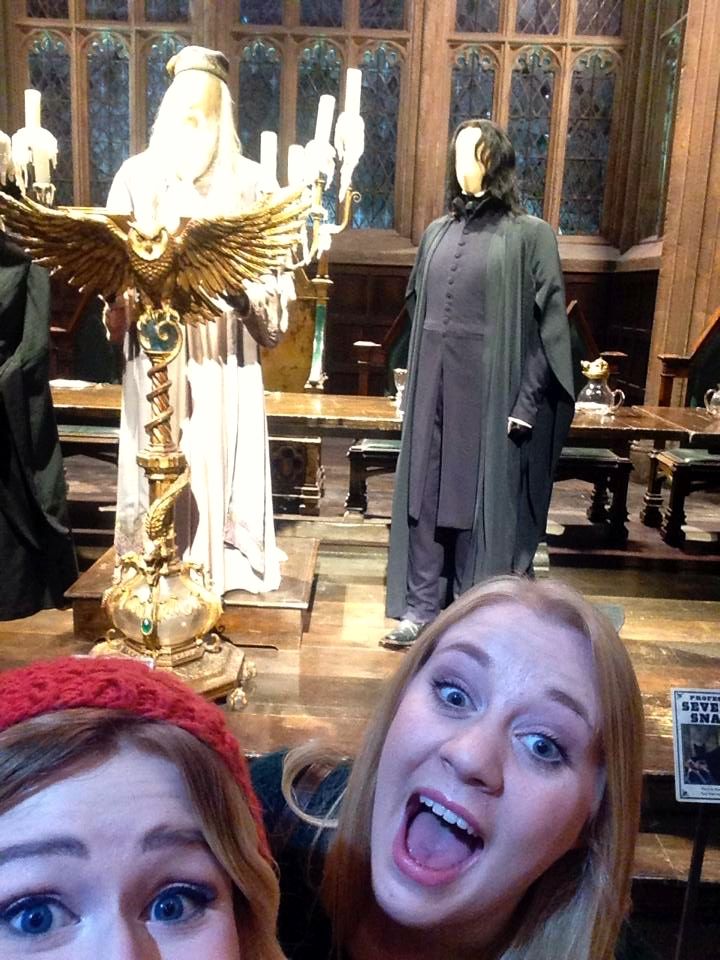 [The Great Hall// Hogwarts Teachers]
After the Great Hall we moved through to the next section which had the smaller sets and all the props as well as costumes, wigs, and information about the different aspects that go into making such a big film. I loved the Gryffindor common room, it looked so warm and cosy. We also saw Dumbledore's office, Hagrid's hut, the potions room, and the Weasley's kitchen where you could chop the carrots and do the ironing with
magic!
We also got to try out the green screen area where we flew on broomsticks and had a ride in the flying car, this was a bit of fun but the photos were a bit out of our price range! While we were inside we also decided to have some wands lessons doing some wand fighting moves, although it turns out we're pros at wielding a wand!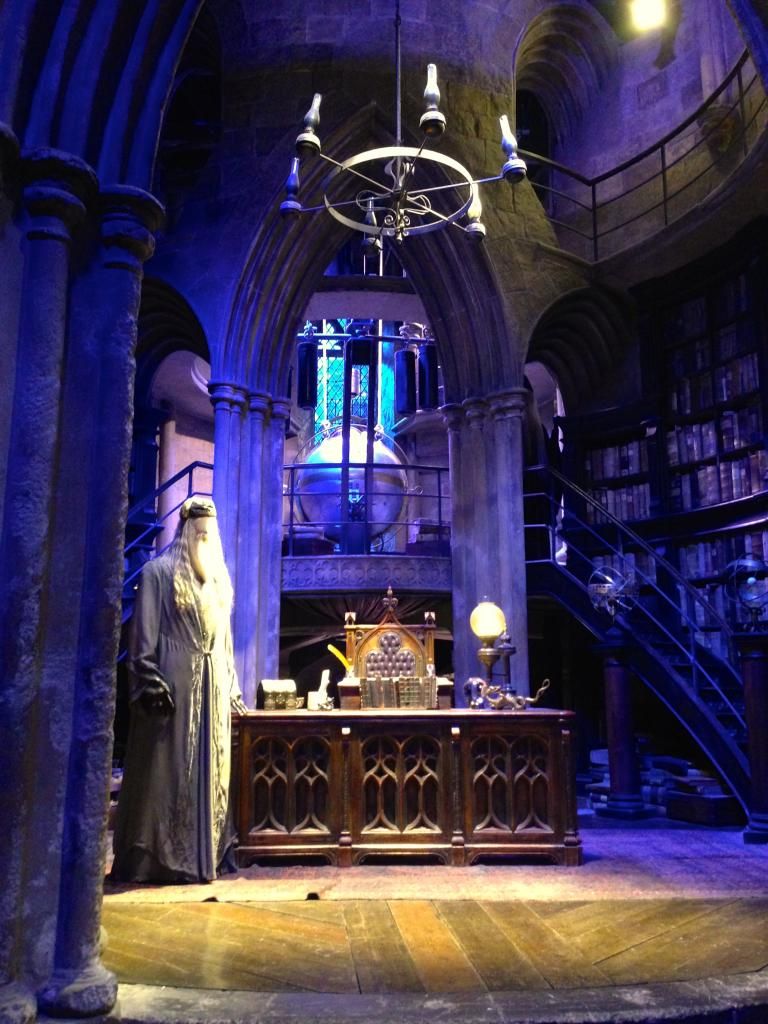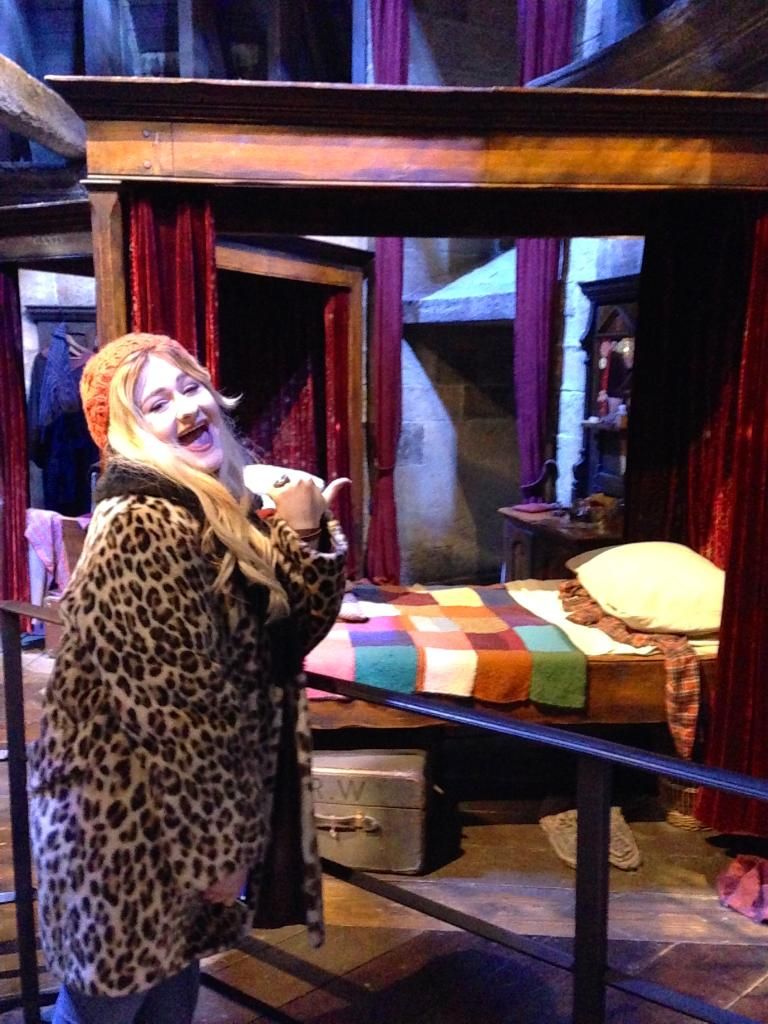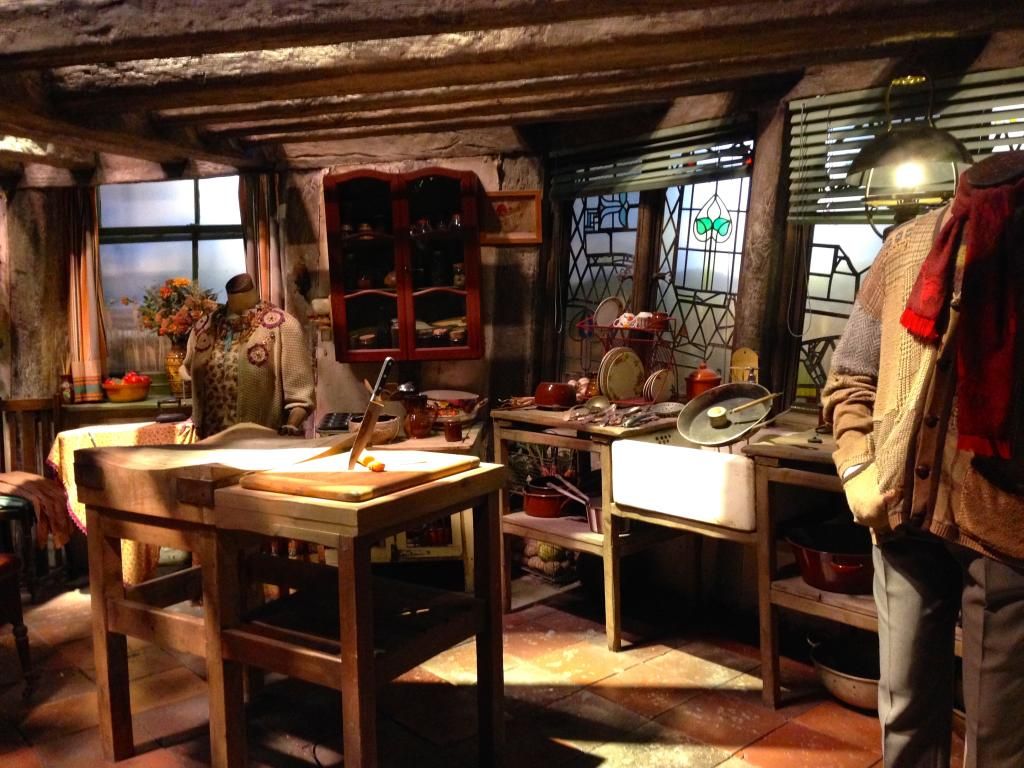 [Dumbledore's Office// Ron's Bed// The Weasley Kitchen// Gryffindor Common Room]
Probably my favourite part of the tour was the outside area, we grabbed a butterbeer which we didn't expect to be cold, but it was still enjoyable. Then we made our way round the Knight Bus, Private Drive, the Potter's House, and the Bridge taking lots of photos. Then we posed on Hagrid's bike and in the flying Ford Anglia! Next we headed inside where we saw all the amazing masks, animatronics and technical drawings. Buckbeak was so lifelike and moved which I
loved!
I also made sure to take lots of photos of the technical drawings and models for Josh as this is the area of film making he works in so he was really interested.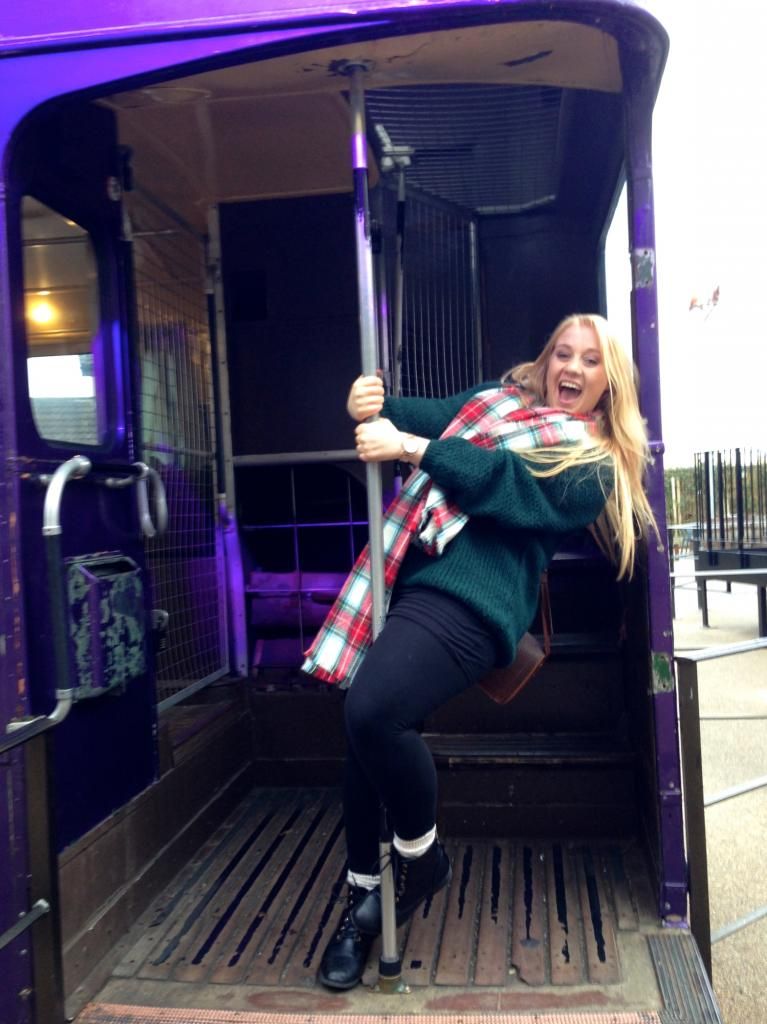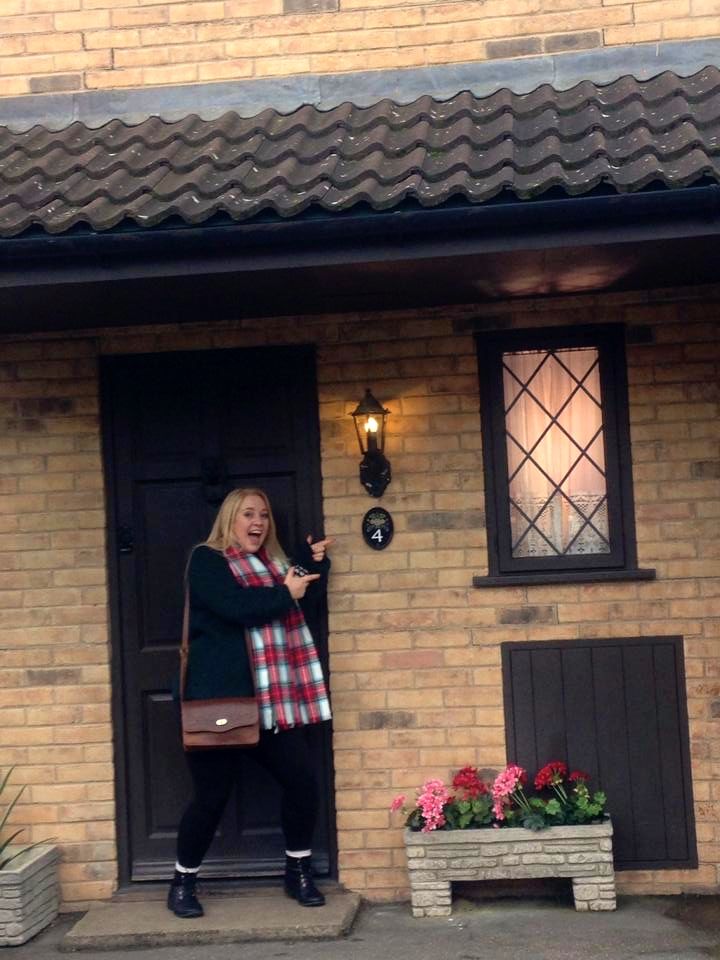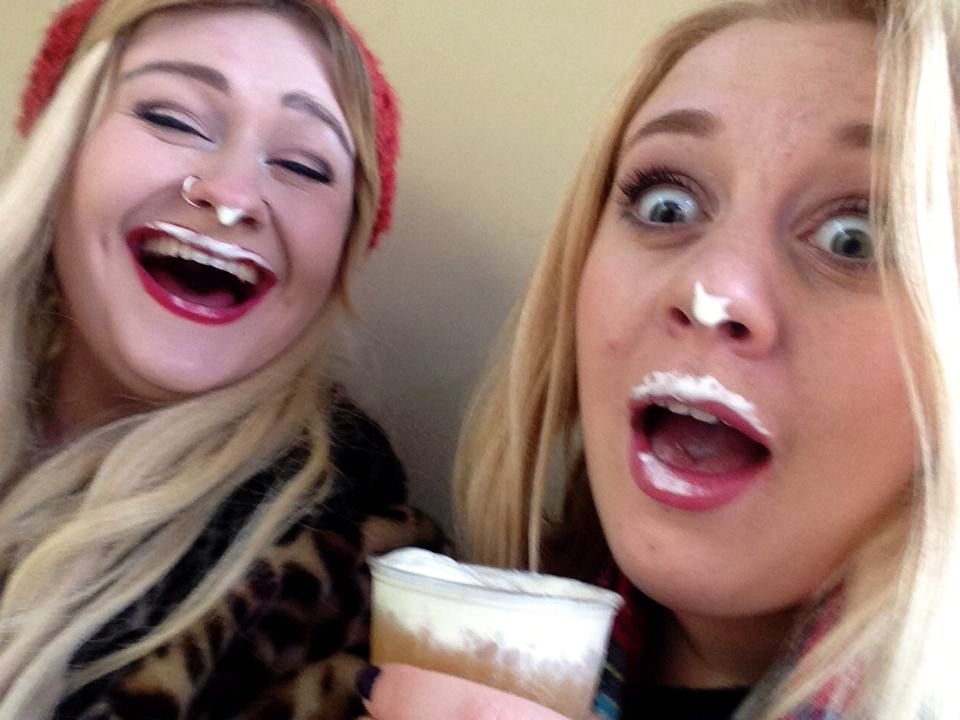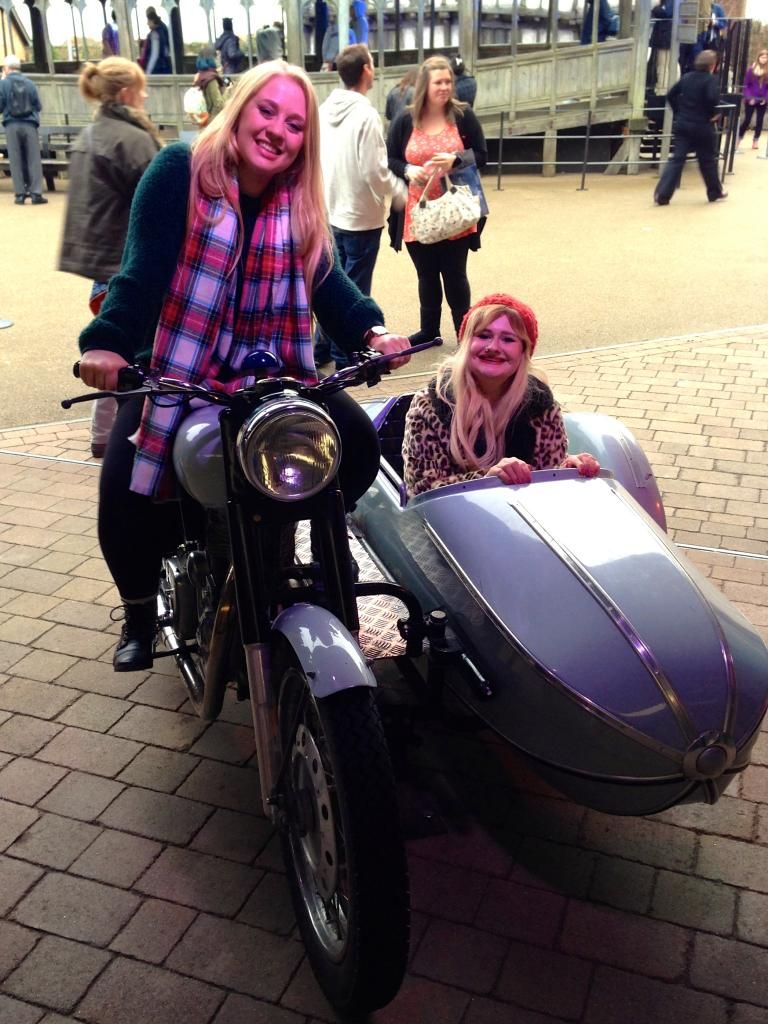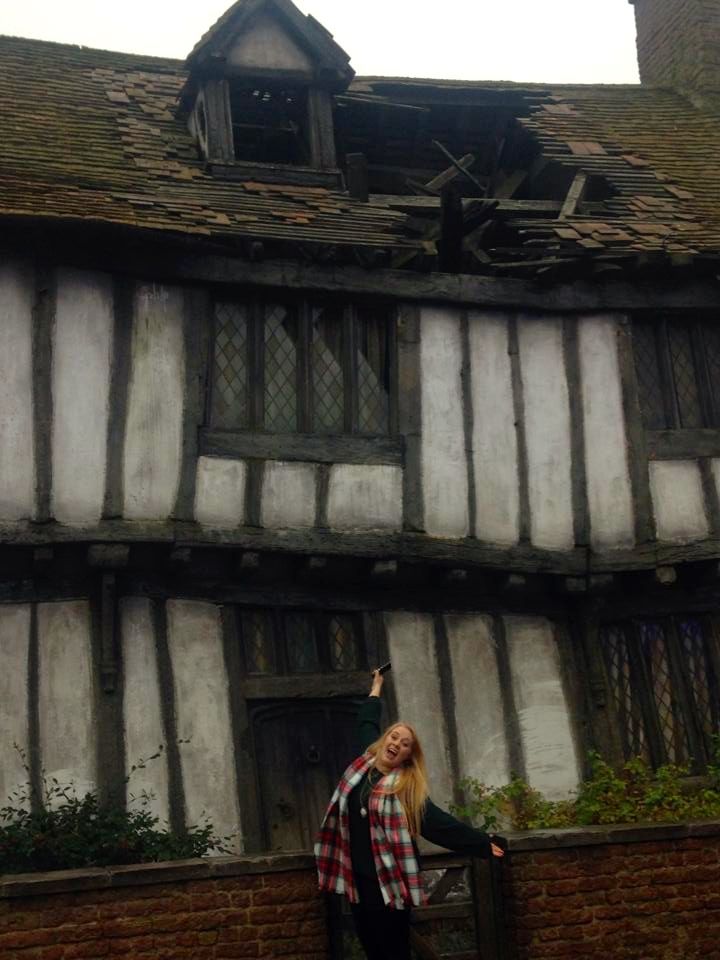 [The Knight Bus//No.4 Privet Drive//Butterbeer Moustaches//Hagrid's Bike//Godrics Hollow]
One of the best parts of the tour was Diagon Alley! This was truly fantastic to see, you literally felt like you'd passed through the Leaky Cauldron into the wizarding world. There was Gringotts, Flourish & Blotts, The Daily Prophet, Ollivanders and Weasley's Wizard Wheezes. The street was cobbled and the buildings were all slightly wonky giving it that magic feeling, and the windows were all displayed with wands, broomsticks and robes.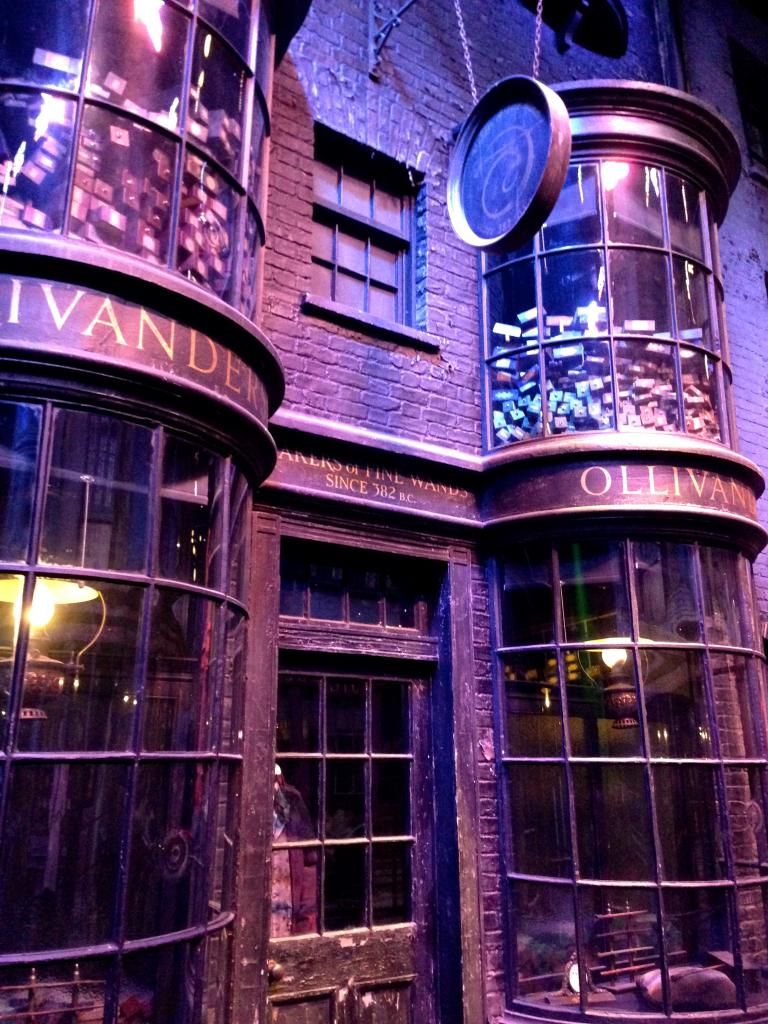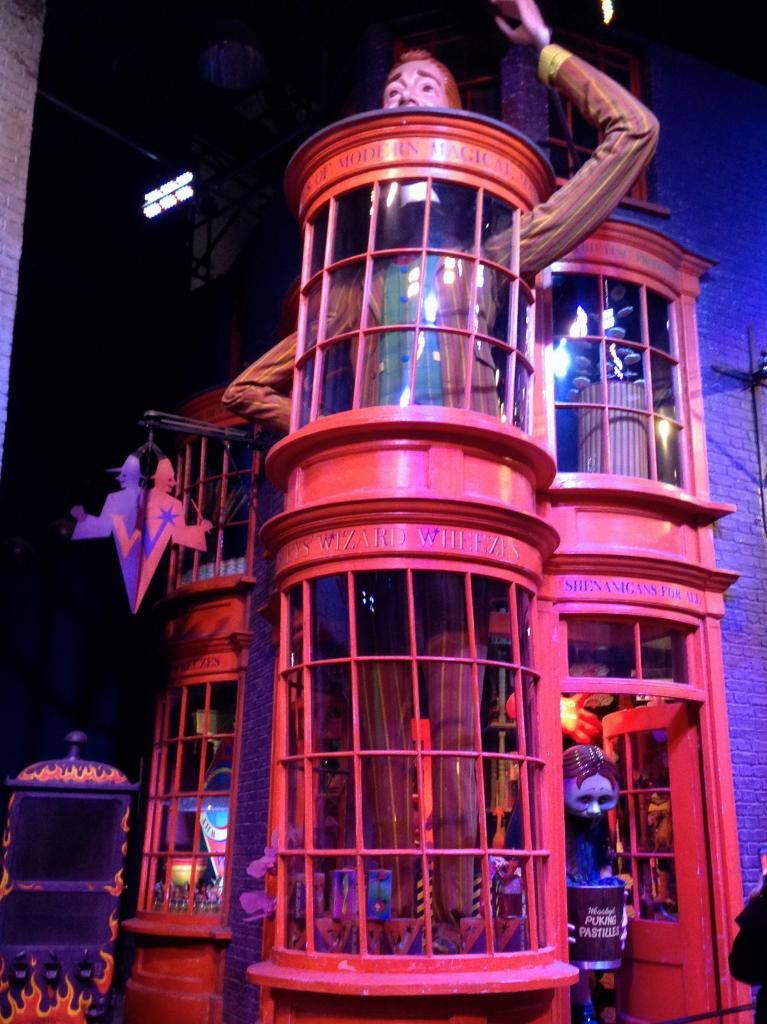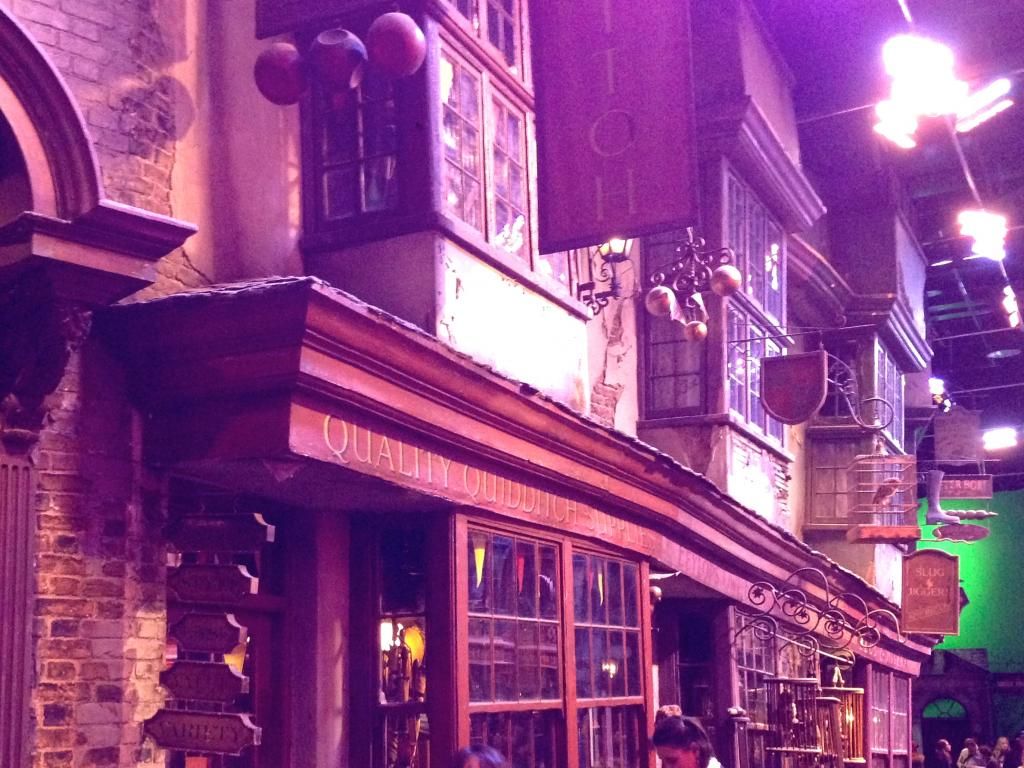 [Ollivanders// Weasley's Wizard Wheezes// Diagon Alley]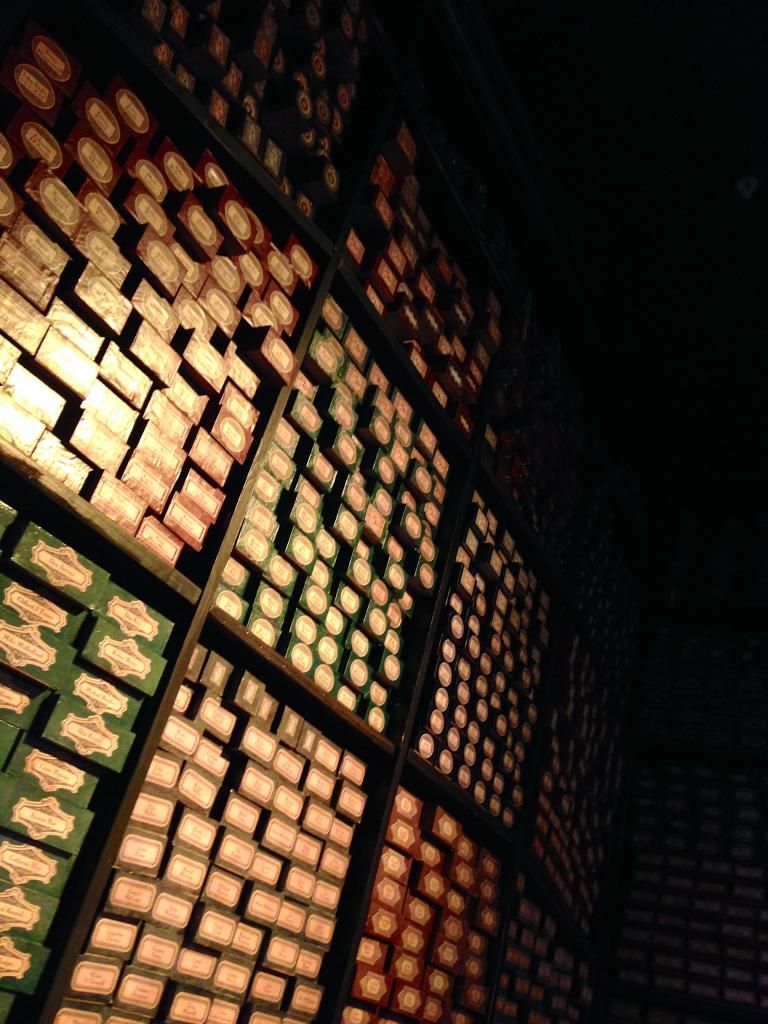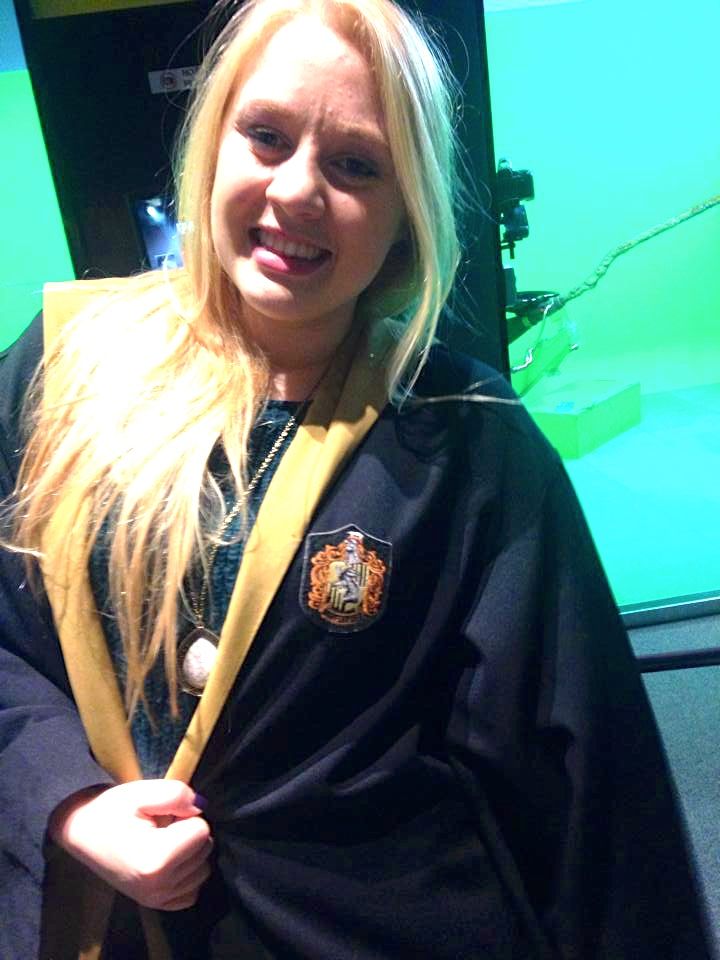 [Wands// Buckbeak// A Happy Hufflepuff// The Marauders Map]
Even though I'd seen pictures and watched videos of people visiting the tour I was still awestruck when I saw the giant model of Hogwarts. It was huge and so intricately done, I just wanted to explore it all! I would have loved to have seen it covered in snow but we were a few weeks early, but it was still an amazing thing to see. After seeing Hogwarts we went into 'Ollivanders' where the walls are covered with wand boxes, each one named after someone who worked on the Harry Potter films. There was a man there who could tell you where any person's wand was and what they did on the film, we even tested him by choosing a random persons name and seeing if he could point them out and he could! We were very impressed with this, and even more impressed when he told us he had worked on the films!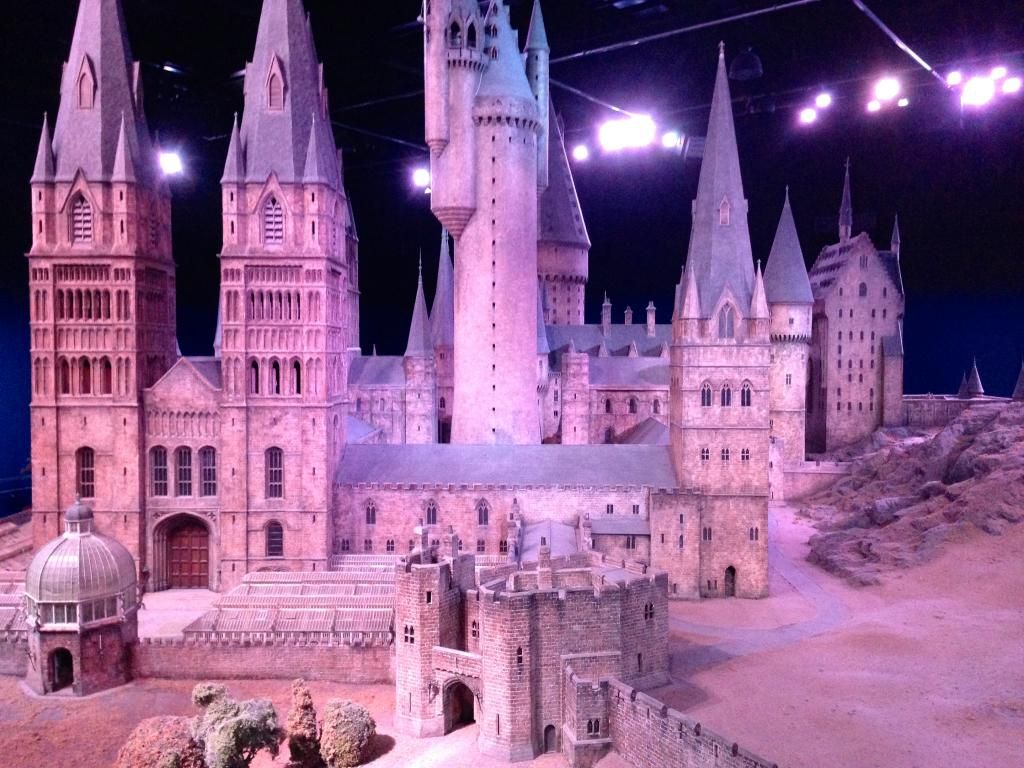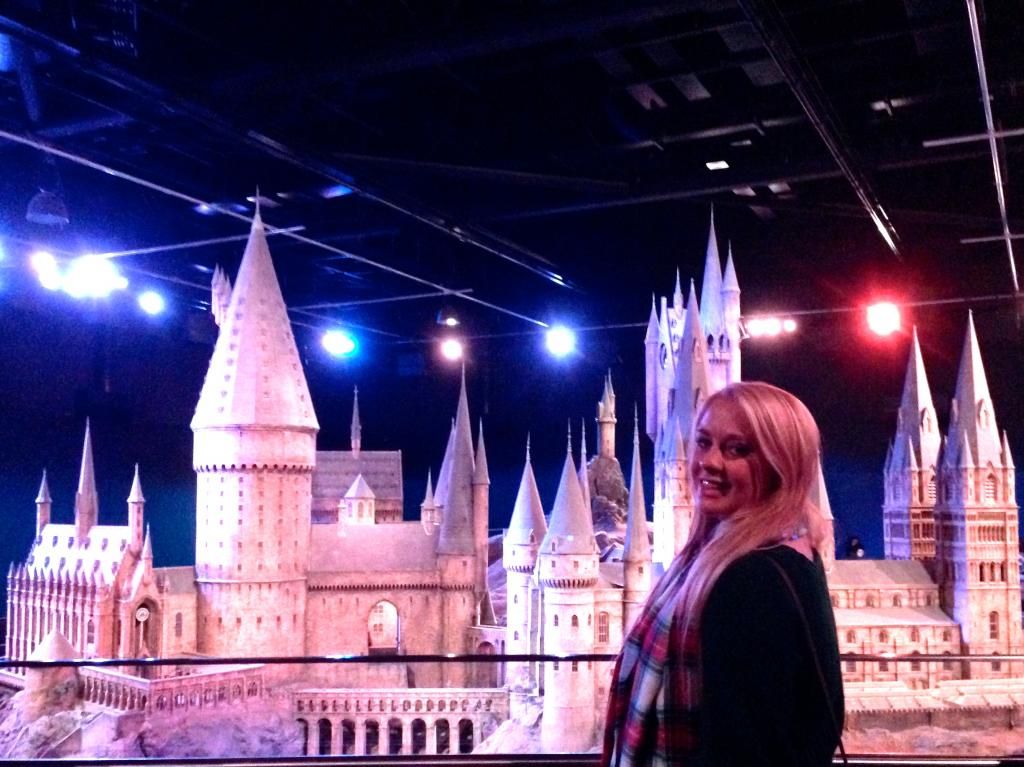 [Hogwarts Model// A Very Excited Emma]
Overall it was a really amazing day. I had been worried that it might 'ruin the magic' but if anything it did the opposite! Being a poor student I didn't get to take advantage of the gift shop as much as I'd like to, but I got myself a Deathly Hallows keyring as a memento. Harry Potter meant so much to me as a child and it still does! I love Harry Potter. Always.